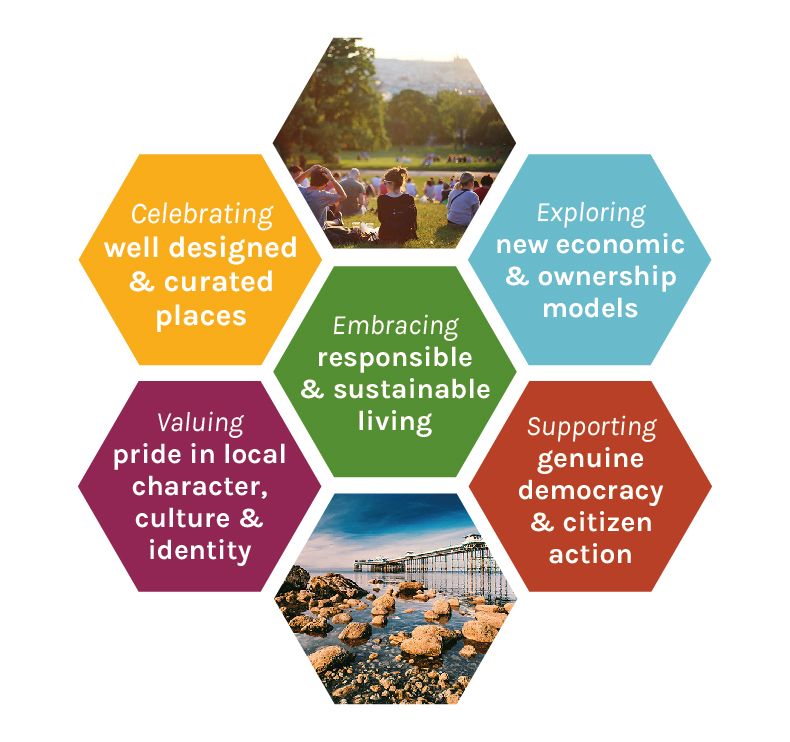 Places with spirit
In Britain we have a fabulous heritage of thousands of towns, villages, cities, city neighbourhoods, suburbs. Each has its own history and character, its own genius loci - spirit of place. In each can be found things that have been done well, people striving to do well.  By and large people are proud of their place, and love to see it thrive.
But we also do an infuriatingly bad job of looking after them.  Far too many of our places feel threatened or beaten by an economic system gone malign: some neglected, hollowed out; others actively ruined by too much pressure and soullessness.
Civic Revival has been founded both to celebrate the good things about our places as they are, and to explore how we can be more successful at making them better.  What is the recipe for making places feel attractive, lively and thriving because they have kept and are using the qualities that make them distinctive, rather than struggling because they have lost them? How can all find a secure and fulfilling living within such better places, enjoy life, contribute as citizens, and also be ecologically and environmentally sustainable?
A movement, both old and new
In every place across the country can be found 'place-based civic activists' – people with the intention and desire to change things for the better, who work to improve the quality of life in their place or community.  Local heroes, often unsung.
Some are thinkers, some are doers, a lucky few manage to 'think and do'.  Some work within long-established structures for civic action, including elected office, others increasingly create new structures.  Some make a living doing their work - or try - whilst many many others work unpaid as volunteers.  Some take the need for radical social, economic or environmental change as their starting point, many others do not.
Notwithstanding its wide diversity, Civic Revival believes that together civic activists represent a real, broad movement.  But we don't always self-identify as such.  And, despite many impressive existing efforts to draw the threads together, we don't know enough about each other's work: about the mutual challenges we face and the solutions we can share.  Big business and big government seldom understand or assist well.  As a result, the movement adds up to less than the sum of its parts and achieves less than it could.
Civic Revival - our mission:
Civic Revival was founded in February 2020 and is based in Hastings, Bolton and London.  Our mission is to learn from inspiring people and projects across the country, and to make a contribution towards:
delivering information, networking and knowledge-sharing about successful citizen-led civic revival on the ground;
discussion, analysis and understanding of the factors that facilitate or frustrate citizen-led civic revival.
Our plan for 2020 was to emphasise people and projects meeting face to face in locations across the country, drawing inspiration from rich interaction in real places.  Then coronavirus happened.
The post-coronavirus recession will be very deep, and pose immense challenges for the local independent and voluntary sectors, and for what we call the civic revival.  Nothing will be the same again.  There is a profound risk that greater uniformity, dependency and destitution of our places could be what comes next - polarised wealth amidst public squalor.
But we also see opportunity: a new epoch is starting and now is the time to shape it.
So many of the thinkers and doers in the field are already out of the blocks fast and are producing amazing work in a huge diversity of places online.  It can be bewildering and exhausting trying to keep up with it all; so much good work risks getting lost.  Our new mission is to try to bring together some of the best of the new thinking and share it, and try to add some of our own observations, analysis and learning.
We can't and don't seek to 'own the synthesis'.  We can't and don't seek to be the 'network of networks'.   We can't and don't seek to produce vast quantities of new material.  What we aim to do is to make a contribution to civic revival by offering a resource for 'navigating the post-corona possible'.
We will start online as we must while the lockdown continues.  But as the lockdown lifts, we aim to make a contribution to bringing people together to learn, share and get inspired.  To find out if you want to join us on this journey, read on…