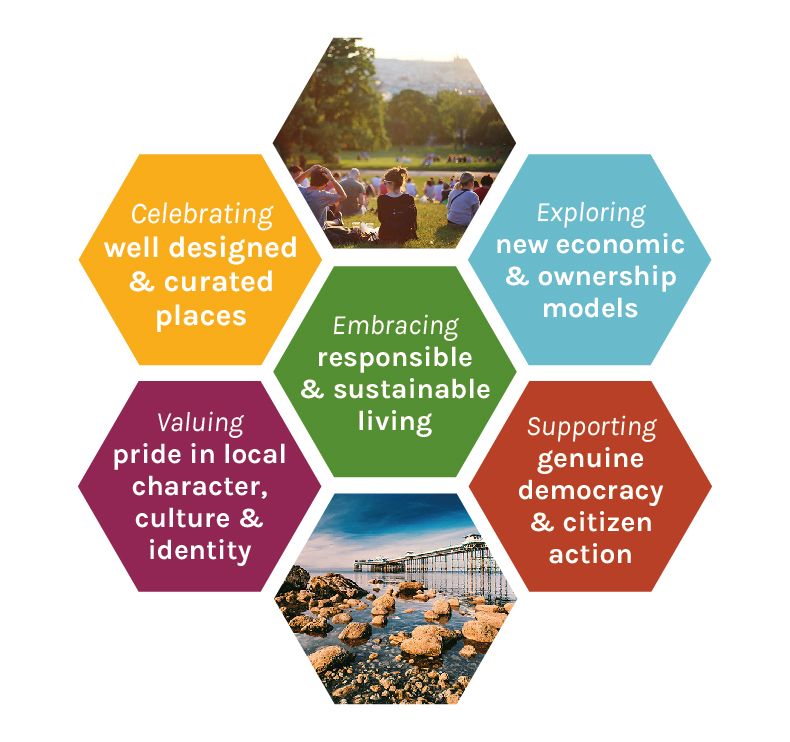 People, places and empowerment
For most of us, the places we live and regularly go are part of the structure of our lives.   They are the setting for our own life stories and give us a feeling of belonging, continuity with the past, a set of common experiences and a sense of pride: they form part of our identity.
In Britain we have a fabulous heritage of thousands of towns, villages, cities, city neighbourhoods and suburbs that are all distinct 'places'. Each has its own history and character, its own genius loci - spirit of place. In each can be found things that have meaning: telling stories of achievement in the past, or examples of people striving to do well now.  By and large people are proud of their place, and love to see it thrive.  They are also pleased to tell the story of their place, and share it with visitors.
At Civic Revival we are searching for the crucial factors that determine whether a particular place – neighbourhood, town or local area – has the feeling of identity, custody and self-esteem that make it a good place to live in or go to:  the 'something special' that distinguishes it from elsewhere.
But instead we find far too many of our places seeming threatened or beaten by an economic system gone malign: some neglected, hollowed out; others actively ruined by greed and soullessness.  Four decades of 'the wrong kind of globalisation' have damaged not only our places; they have damaged our sense that we can be active custodians of our own destiny.
This era may now be passing.  At Civic Revival we believe there is an opportunity now to shape the next economic era, and repair that damage.  We believe that action at the local level must be placed centre stage.  Getting places right can be the key to recognising and nurturing people and their aspirations, as well as being a general source of delight.
We argue that the worst form of 'governance' is when things are done to people. It's slightly better when they are done for people, although that is not a very good way to support the sharing of responsibility. It's positive when things are done with people, as that brings a genuine sense of involvement. But it's best when they are done by people for themselves – which is the empowerment of communities and groups that we call civic activism.
In places across the country exciting things are already happening, and glimpses of a better future can be seen.  But, sadly, they feel like the remain generally the exception, not the rule.  Our mission is to find out more about the good things happening, develop and share understanding of what works and what doesn't, and do what we can to spread the word of what we call the civic revival.
You'll find the background and intentions of the group who have come together to do this here.  We hope that you'll share our passion and ambition, and connect with us and others of like mind.
Our five key themes
Civic Revival aims to celebrate the good things that have been achieved in particular places, and explore how we can spread this success to more places. What is the recipe for making places feel attractive, lively and thriving because they have kept and are using the qualities that make them distinctive, rather than struggling because they have lost them? How can all find a secure and fulfilling living within such better places, enjoy life, contribute as citizens, and also be ecologically and environmentally sustainable?
We have defined five areas of special interest:
the celebration of places and their character;
the fostering of responsible and sustainable living to meet global and local environmental challenges;
the exploration of the benefits that can be unlocked by new economic and ownership models;
what it is that engenders a benign and constructive  pride in local history, culture and identity; and
the quest to find the most appropriate forms of democratic decision-making and governance to support positive citizen action.
A movement, both old and new
Across most of the country can be found 'place-based civic activists' – people with the intention and desire to change things for the better, who work to improve the quality of life in their place or community. Local heroes, often unsung.
Some are thinkers, some are doers, and a lucky few manage to 'think and do'. Some work within long-established structures for civic action, including elected office, others increasingly create new structures. Some make a living doing their work or through commercial enterprises – or try – whilst many many others work unpaid as volunteers. Some take the need for radical social, economic or environmental change as their starting point, many others do not.
This tradition goes back many years and we're pleased to include on this website reflections upon and examples of the civic tradition.
Notwithstanding its wide diversity, Civic Revival believes that together civic activists represent a real, broad movement. But one that doesn't always self-identify as such. And, despite many impressive existing efforts to draw the threads together, those like us generally don't know enough about each other's work: about the mutual challenges we face and the solutions we can share. Big business and big government seldom understand or assist well. As a result, the movement adds up to less than the sum of its parts and achieves less than it could if it really punched its weight.
If not locally, where?
Genuine citizen empowerment and involvement in decisions that affect the lives of people and the interests of particular communities is a tough challenge at a national level, where institutions are large, decision-making is remote, and big government and big business are seen by some as the efficient and preferable way to run things. And values and processes seem to be out of kilter with how ordinary people would like things to be, and to be done.
At local level, it is rather easier to empower people and share and support individual community actions if the right framework is provided.  In recent years there have been some real positives at the local level – a revival in town councils; a leadership role by some civic societies and locally-inspired campaigning bodies; a renaissance in local enterprise in fields like food and craft enterprises like brewing; a successful era of new neighbourhood plans; the creation of a genuine recognition of assets of community value; the support to the upkeep and improvement of village halls; and a distribution of monies through schemes like the National Lottery Fund to locally significant projects to preserve important parts of shared culture and history.
But we believe much more is possible in areas like the genuine custody of place; a new era of high street and town centre economic and social activity; an encouragement of locally-led and curated projects; conservation and eco-friendly husbandry of natural resources; creative ways of preserving and enhancing the environment in areas like recycling and energy supply; and the establishment of new kinds of 'vehicle', to help groups of local people get things done that matter to them.
Civic Revival's support role:
Civic Revival was founded in February 2020 and is based in Hastings and Bolton. We want our role to be learning from inspiring people and projects across the country,  sharing that knowledge with others who can use it to beneficial effect and helping everyone interested in the wellbeing of local communities understand the ingredients that add up to success, and those that inhibit it.
We intend to make a contribution towards:
delivering information, networking and knowledge-sharing about successful citizen-led civic revival on the ground;
discussion, analysis and understanding of the factors that facilitate or frustrate citizen-led civic revival.
Our plan for 2020 was to emphasise the people and projects from which we can learn – meeting face to face in locations across the country, drawing inspiration from rich interaction in real places. Then coronavirus happened.
The pandemic experience has been wounding and a jolt to our thinking. The post-coronavirus recession will be very deep, and pose immense challenges for the local independent and voluntary sectors, and for what we call the civic revival. Nothing will be the same again. There are opportunities for change and new paradigms to be tried, but there is a profound risk that greater uniformity, dependency and destitution of our places could be what comes next – polarised wealth amidst public squalor.
We want to resist that and instead grasp the opportunity: a new epoch is starting and now is the time to shape it.
So many of the thinkers and doers in the field are already out of the blocks fast, and are producing amazing work in a huge diversity of places both on the ground and online. It can be bewildering and exhausting trying to keep up with it all; so much good work risks getting lost. Our first mission is to try to bring together some of the best of the new thinking and share it, and try to add some of our own observations, analysis and learning.
We can't and don't seek to 'own' the agenda or the synthesis. We know we are not the only people taking this journey. We can't and don't seek to be the 'network of networks'. We don't seek to produce quantities of new material ourselves when there is much that we can simply recognise and alert others to already in existence. What we aim to do is to make a contribution to civic revival by offering a resource for 'navigating the post-corona possible' and showcasing the knowledge and ideas that are helping in that cause.
We think that the important conversations now needed should focus on the following key issues, amongst others:
Social and economic structure
Place definition and custody
Democratic institutions and processes
Identity and pride
Good things are already happening that we want to spread the word about, and to facilitate discussion on and learning from, so we can all 'build back better'. We want to tell about success stories and even consider those schemes that have not worked out, so we can learn from the 'trial and error' that is an essential element of changing things for the better.
We will start online as we must while the lockdown continues. But as the restrictions on travelling around and meeting up lift, we aim to make a contribution to bringing people together to learn, share and get inspired.
To find out if you want to join us on this journey, do look around this site, and please get in touch to contribute or alert us to the efforts of kindred spirits and like-minded people who also believe it's time for a civic revival.