Chancellor Rishi Sunak has announced £1bn towards 45 further places becoming eligible to receive money from the government's Towns Fund in England as part of his Budget. He has also unveiled a promised new tranche of Levelling Up funding, which is available to other areas.
The Levelling Up Fund initiative is led by the Ministry for Housing, Communities and Local Government, and funded by the Treasury with over £4bn in England over four years, including £600m next year.
The list of new places is dominated by the north west, Yorkshire and the Midlands, and has again brought controversy over which places have been selected, with accusations of 'pork barrel politics' favouring locations where there is no obvious social and economic reason for the levelling up money, which were raised when the towns in the first funding round were announced.
Shadow work and pensions secretary, Jonathan Reynolds, said there was "just no logic to where that money goes other than through a political ends".
Mr Sunak told the House of Commons the deals would be "from Castleford to Clay Cross, Rochdale to Rowley Regis and Whitby to Wolverhampton". The north-west of England is receiving the lion's share of the latest towns deal funding, with Preston, Workington, Bolton, Cheadle, Carlisle, Leyland, Southport, Staveley and Rochdale receiving £211m.
Meanwhile, the East Midlands will receive £175m, with funding channelled to Newark, Clay Cross, Skegness, Mablethorpe, Mansfield, Boston, Lincoln and Northampton. The West Midlands will get £155m, with the funding going to Wolverhampton, Kidsgrove, Rowley Regis, Smethwick, West Bromwich, Burton-on-Trent and Nuneaton.
The East of England will get £148m, with the south-west and the north-east getting £46m and £41m respectively for towns deals, while London and Yorkshire get nothing.
On top of the Towns Fund, a further £19m is being allocated to local cultural infrastructure projects in Carlisle, Hartlepool, Wakefield and Yeovil, which the government claims will "boost the vibrant cultural life of these towns and cities" but quite why these particular places have been selected is not clear. The funding includes £10m towards renovating and expanding a theatre in Yeovil and £2m to transform a historic hall in Hartlepool into a cultural venue.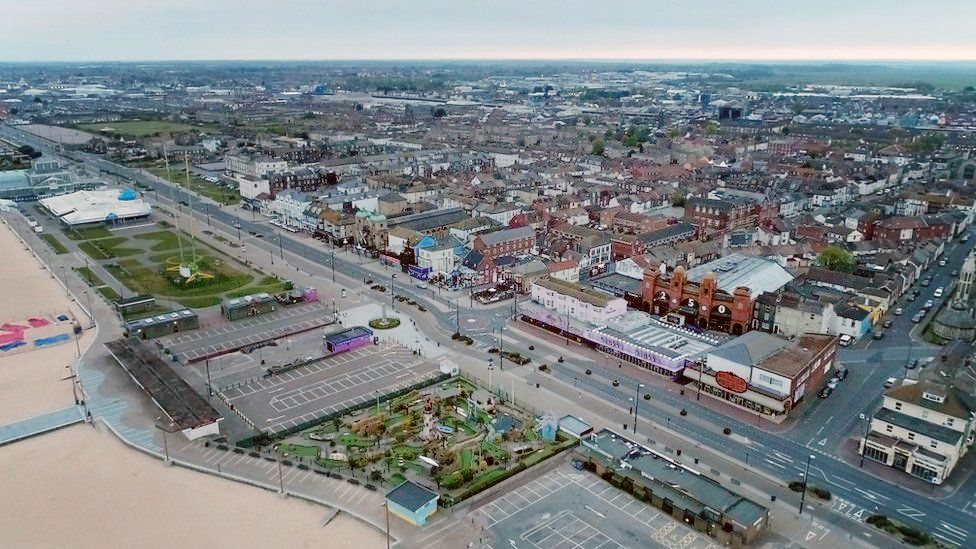 According to the BBC's  head of political research, Peter Barnes, though there are 45 towns named, as some cover multiple constituencies, a total of 56 constituencies would potentially benefit.
Forty-seven are Conservative-held seats - including 14 gained from Labour at the 2019 election - while nine are Labour constituencies.
Fifty-three of the constituencies voted "leave" at the EU referendum. Three voted "remain".
The plans that the Norfolk seaside town of Great Yarmouth has for its £20m include job creation, supporting new homes and "to tap into and grow a thriving arts and cultural scene".
Chairman of the town deal board, Henry Cator, said the "ambition [was] to realise a vibrant and inclusive coastal economy".
Meanwhile, Lincolnshire has five towns, as well as Lincoln, in the list to receive funding.
Jo Walker, assistant director for growth at City of Lincoln Council, said the £19m it was due to receive would "help make a significant difference in the city as we come out of lockdown and begin our recovery from the pandemic".
Workington in Cumbria will receive £23m, which the local council said would support projects including a sports village and innovation centre.
Mike Johnson, Conservative deputy leader of Allerdale Borough Council, called it "absolutely fantastic news" and said the authority would work to "bring these projects to life and make the town an even better place to live, work and visit".
Challenged on the allocations at a Downing Street news briefing, Mr Sunak said that "if you looked at all the things" the government was doing it was "benefitting people in every corner of the country". The government has also said that a formula was used to decide which areas were selected - but would not reveal what it was.
Mr Sunak was asked by Financial Times journalist George Parker why, according to his paper's analysis, 40 out of 45 towns receiving £1bn have Conservative MPs, and why Mr Sunak's own seat of Richmondshire in Yorkshire is designated as 'priority one' in the Levelling-up Fund while Barnsley is priority two.
Mr Sunak responded that the capacity funding for the Levelling Up Fund was based on an "index of economic need" which is "transparently published by MHCLG and based on a bunch of objective measures".

New town deals and amount per region
North East: Middlesbrough; Thornaby-On-Tees - £46m
North West: Preston; Workington; Bolton; Cheadle; Carlisle; Leyland; Southport; Rochdale - £211m
Yorkshire and the Humber: Wakefield; Whitby; Scarborough; Grimsby; Castleford; Goldthorpe; Scunthorpe; Morley; Stocksbridge - £199m
East Midlands: Newark; Clay Cross; Skegness; Mablethorpe; Boston; Lincoln; Northampton; Staveley; Mansfield - £175m
West Midlands: Wolverhampton; Kidsgrove; Rowley Regis; Smethwick; West Bromwich; Burton-upon-Trent; Nuneaton - £155m
East of England: Lowestoft; Colchester; Stevenage; Great Yarmouth; Ipswich; Milton Keynes - £148m
South East: Crawley; Margate - £43m
South West: Swindon; Bournemouth - £41m