There were significant achievements for activists seeking more democratic control over their areas in the results of the major set of local elections that took place on May 6th.
Notable outcomes included the citizen-called referendum on council governance in Sheffield, which won its bid to change to a more traditional committee structure, from a leader-led approach, as Sheffield City Council itself went to no overall party control, and the former leader lost his seat.
65% of voters expressed a desire for the new committee structure - approximately 89k votes for change, against 48k for not change. The grassroots It's Our City campaign triggered the referendum after gaining over 26,000 signatures from local people. This was in response to the Council's handling of the street tree dispute, which raised questions about accountability and oversight.
There were also strong showings by Independent candidates for both county, district and town/parish councils, and a significant turnout in the first elections for new local councils, particularly in Bexhill, East Sussex and Bude, Cornwall.
The significance of the Sheffield outcome and others was, however, sadly little recognised by the national media, which was more concerned with traditional 'Big Party' politics between Labour and the Conservatives, and the situation regarding a Scottish independence referendum, rather than a change going on at local level around the country.  
It also continues to be very difficult to find the individual and nationwide election results for town councils, even in the local media, as they tend to concentrate on the top tier local authorities - counties and districts - and ignore the truly local level. This is even the case where the district councils have been abolished to leave just a single county authority, or a county has been abolished and new unitary districts created with significantly sized town councils below them, like that just created in Northampton - the largest in the country.
In the referendum on the future governance of Newham, the voters decided to retain the Directly Elected Mayor model. The votes were as follows: Directly Elected Mayor model – 45,960 votes (56%) Committee model – 36,424 votes (44%).
Campaign group Newham for Change expressed disappointment at the result. Chair Josephine Grahl said 'although it is disappointing that we did not win, it is encouraging to see local people engaging in the debate about how their council is run'. She also said they were 'encouraged by commitments made to wider participation through citizens' assemblies and the proposed trialling of small-scale community councils where some powers are devolved to local areas.'
The Flatpack Democracy 21 Campaign looking to support more independent-led local councils expressed satisfaction with the outcomes, stating during the count that 'we're seeing encouraging gains from independents up and down the country'.
In a roundup of the achievements of some of the local groups aligning with the Flatpack Democracy mission, they reported the following results:
Open Hexham (Northumberland) scored a majority with 3/5 of their own candidates elected and 1 independent ally (leaving Conservatives at 3/12)
Our Ryde (Isle of Wight) got all 9 councillors elected (1 seat uncontested) - now have a majority
Our Island (Isle of Wight - county) - 1 candidate elected
Bude Stratton Community Alliance (Cornwall) - achieved a majority with 11/18 candidates elected
Bexhill Together (East Sussex) won a majority with 10 Bexhill Together independents on the council now (6/11 elected, 1 uncontested)
Two independents from the local town council both won seats for Durham County Council unitary in the ward of South Hetton, Haswell & Shotton Colliery.
Two solo independents won seats on Slough council with extremely 'last minute' campaigns
United 4 East Marsh (Grimsby) - although the LibDem candidate won in both wards, the independents made huge gains in a short space of time
Inform Rame, Independents for Rame & Maker in south Cornwall succeeded with 7/8 candidates elected, giving them a majority
Buckfastleigh Independents - 2 more candidates elected
Haswell's Community Party (Durham) elected unopposed
1/3 Wells (Somerset) Independents joined the council - voting margins were very close
Frome in Somerset, the birthplace of the Flatpack movement, did not have an election for its town council this year.
Bexhill
The newly formed Bexhill Town Council held its inagural election, for nine wards represented by two councillors. Bexhill Together won a majority, taking 10 of the 18 seats. Another group, Bexhill Independents, took 7, with just 1 seat going to the Liberal Democrats.
Viv Taylor-Gee, who helped get the new council into being by campaigning through the Democracy4Bexhill movement that won a referendum to initiate the council, said 'it has been quite a ride, and will no doubt get even more challenging! But we have a majority which is good, and a lot of goodwill, in among some sniping from those who don't seem to support a democratic voice for the town!'.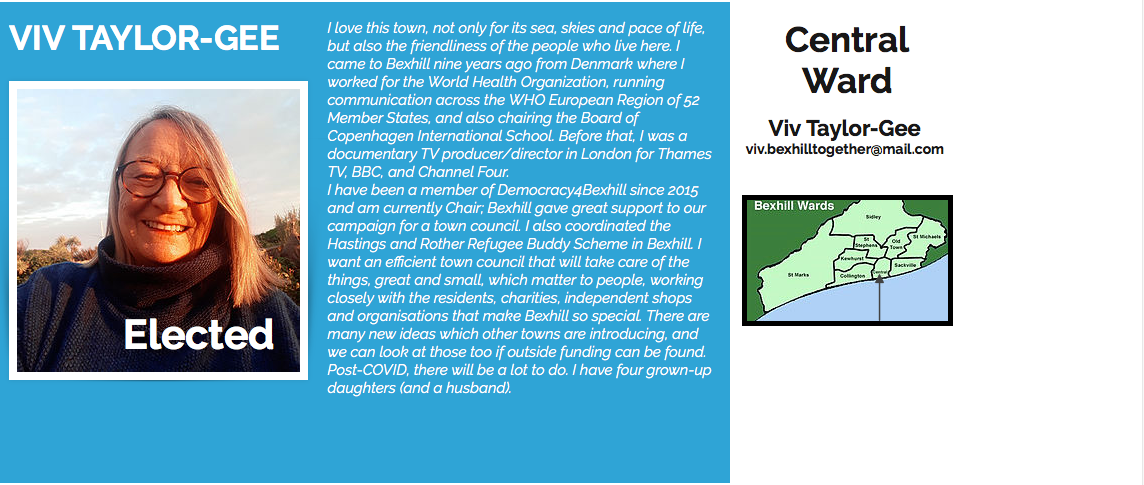 Bude
In Bude, the newly formed Bude-Stratton Community Alliance were convincing victors in both the Bude and Stratton elections, where unusually, two single town council 'constituencies' select multiple representatives. In Bude Ward, all 11 of the Community Alliance candidates were elected on a turnout of 42.41%, and in Stratton, 4 of the 6 elected members are from the Community Alliance, where there was a turnout of 39.19%.
Bude Town Council's election was really contested this year for the first time, with a large number of candidates standing, and a lot of interest generated. There was some incredulity, however, at an advertisement which appeared in the local paper from some of the sitting councillors, suggesting the future democracy of the Council was 'at risk' due to the contested elections, when they had themselves been automatically selected due to the lack of people standing previously.
One of the new Community Alliance candidates Martin Dorey said 'We're having the first proper election at Bude town council for 20 years and the incumbents – some of whom were co-opted – call it "a threat to democracy"!'
At previous times, no one stood and people were, indeed, co-opted.
Buckinghamshire
In Buckinghamshire, residents went to the polls for the first time since the new Buckinghamshire Council came into existence – one year later than planned because of the Covid pandemic.
It is the first election in the local authority area since was created last year by the merging of Bucks County Council and district councils of Aylesbury Vale, Wycombe, Chiltern and South Bucks.
As expected, the Conservatives won a majority, taking 113 seats, while the Lib Dems came in second with 15 seats, followed by the Independents (six seats), Labour (four seats), Independent Network (two seats) and the Green Party one seat.
Independents were however comfortable winners in some areas, including Wycombe and Beaconsfield.
Below the unitary county council there are a significant number of traditional small parish councils in Buckinghamshire. The changes to local government have not led to much new activity at that level, and many councillors were elected unopposed.
Marlow
There was some new civic activism in a few areas where independents hoped to win representation. In Marlow, the new independents group made progress towards winning seats on the town council, but none of its candidates were elected. Though Independents for Marlow had a total 4,689 votes cast for them. Arguably, they suffered from a late start, and if this hadn't been the case they might well have done better. They have pledged that 'we're not going anywhere!' and say that 'over the next 4 years, they will continue to work in their community, to push for change and transparency in local government and to build on what they've learnt for the next set of elections!'. Their Facebook showed a smiling group saying thank you for the support they received (below) as they awaited the results - but in the end, every seat went to the Conservatives.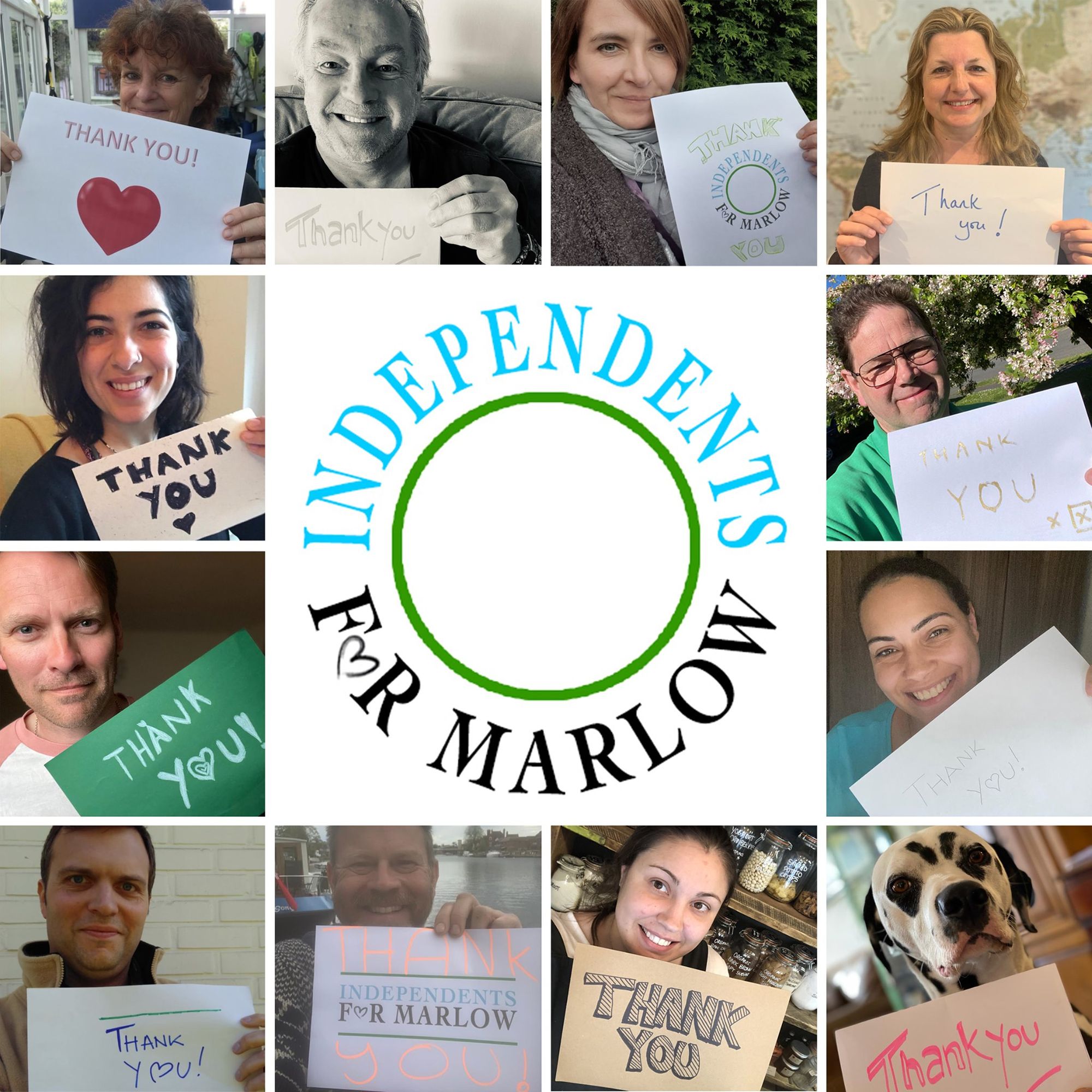 Northamptonshire
Local government in Northamptonshire was also facing its biggest change in over 40 years. The county council and eight existing district councils – Wellingborough, Corby, Daventry, East Northants, Kettering, Northampton, Northamptonshire County and South Northants – were being replaced with two brand new unitary councils and a number of lower tier town councils.
The Conservatives won enough seats to take control of Northamptonshire's two new unitary authorities. The party claimed 60 of 78 seats in the first elections to be held for North Northamptonshire Council. The Tories won 66 of 93 seats to win at West Northamptonshire Council.
The double victory comes despite the party being at the helm of the collapsed Northamptonshire County Council, which led to local government in the region being reorganised.
Northampton
The Labour Party took control of the new Northampton Town Council after the first election. In total, 17 Labour, seven Conservative and one Liberal Democrat councillors were elected.
Jane Birch, who was elected for Trinity ward for Labour and was the leader of her group on the shadow council, said she is really excited for the town council's future as the voice for Northampton.

The town council - the largest of its kind in the country - will be responsible for a range of services, Birch said. "It's a town where the local residents have lost sight of the wonderful things that are in town and the wonderful buildings and they've forgotten the history".
Hexham
In Hexham, the new independent group got 5 of its 9 candidates elected to the town council. The group only came together during the lockdown via Zoom, created a group, engaged in active listening to residents and community groups, bannered & leafleted, campaigning for an open, positive and participatory Hexham Town Council free from the constraints of party politics.  They even invited celebrity online parish council YouTube star Jackie Weaver to be involved in their campaign.
Isle of Wight
At county council level, the rise of independents saw the ruling Conservatives lose their majority.
The results saw the new council comprise 18 Conservatives, 13 Independent, two Green, two Island Independent Network, one Labour, one Our Island, one Lib Dem, one Vectis Party. It means the start of negotiation for parties or groups to meet the required 20 seats for a majority.
Conservative council leader, Dave Stewart, lost his seat to the Green Party.
Ryde
New political group 'Our Ryde' won 9 seats and the majority on Ryde Town Council. They are a group of existing councillors and eager local candidates who
promise to keep investing in their community, and to make the town council more diverse and 'truly representative'.
Bradford on Avon
It was more disappointing for the independent group Ideal Bradford, who had previously held sway on the Wiltshire council, but had a setback, holding only 7 out of 12 seats. Now the Liberal Democrats have 5 seats, including that of the former council leader Dom Newton and member of Ideal Bradford.
Durham
The two independent candidates for Durham County Council representing the Shotton and South Hetton ward and town council independents there, achieved comfortable wins. Ivan Cochrane and Chris Hood took almost double the votes of their nearest rivals. They are supported by the Haswell Community Party, who aim to enable candidates to stand and win local elections in Haswell Village & Haswell Plough. In particular, they seek to support councillors to work without major party political ideologies, as a means to work in the best interets of local communities.

Wells, Somerset
Wells Independents put forward a candidate in each of the three wards of Wells for the City Council byelections on 6th May. Of these, one was elected, bringing the number of their group up to 5. They say they are a group of independent people "who want to bring people together to build a stronger community and have fun. Wells has many different organisations but we believe we can make the best of our little city if we all work more closely together. We are just ordinary people who want to make a difference."

Bolton
It was an interesting night for independents in Bolton Metropolitan Borough, Greater Manchester. Horwich First gained seats as did Farnworth & Kearsley First.  On the other hand, various independents in the city of Bolton itself were unsuccessful. Bolton Council remains under no overall control, but with the Conservatives now becoming the largest party after winning three more seats and lost one, and now have 20 councillors of the borough's 60, whilst Labour held on to the 7 seats they were defending and added 1 extra. They now have a total of 19 councillors but an area with one of the largest council estates, Breightmet, which would have been Labour's very safest seat in the old days, was gained by the Conservatives.
The remaining seats are held by a mix of the Lib Dems and smaller independent and community-based parties, who have been in coalition with the Conservatives and the Lib Dems to run the council since the last elections.
In Greater Manchester itself, Labour's Andy Burnham swept the board in being re-elected as mayor, reportedly winning every single ward not only in Bolton, but in the whole of Greater Manchester's 10 boroughs - including in those wards where the Conservative majority for borough elections has been over a thousand for many years.  
In contrast, in the West Midlands, Conservative Andy Street retained the mayoralty with an increased majority.
It might be argued that both Burnham and Street have ridden a wave of individual popularity more based upon their own style and performance than the party the represent - a degree of independence that in itself could be regarded as embracing some of the Civic Revival philosophy.
Note
Civic Revival has sought to correctly report on the detail of a range of elections from around the country in compiling this news roundup. This has been a challenging task, as full information has not always been readily and consistently available on results and the affiliations of individual candidates. We apologise if there are any inaccuracies, and are more than happy to correct them if additional information can be provided!