The really significant loss to over 100 towns from the impending closure of the whole set of Debenhams department stores, explored in an item on the Civic Revival website in December, has now become critical, with the deal to sell just the brand name and online operations to Boohoo. The £55 million deal to the online fashion business does not include any of the Debenhams stores or retail activities, which means all of the buildings will now close. Their futures will be in the hands of the liquidator and the response of the property sector to what to do with these significant pieces of real estate.
Guardian columnist and urban affairs commentator John Harris launched a discussion on Twitter this week about the challenge, saying: 'Debenhams closures are going leave massive holes in city centres (Bath, Manchester spring to mind). Hard to imagine anything comparable filling them... feels like it could be an awful watershed point'.

This comment prompted an immediate big response from around the country by other concerned local citizens from places including Leeds, Plymouth, Edinburgh, Portsmouth, Birmingham, Warrington, Preston, Lincoln, Gloucester, Taunton, Chester, Nottingham, Carlisle, Weymouth, Gateshead, Paisley, Newcastle, Stoke, Salisbury and Manchester, all with Debenhams stores.
There were suggestions that some of the stores would make suitable conversions to accommodation, boosting city centre living, but this would take time, leaving voids for the time being and, according to another comment, 'some blocks - in terms of their width and depth - don't lend themselves naturally to it.'
Another contributor questioned 'why will people choose to live in city centre in the future? What's it got to offer if some people work from home and shops are no more? City planners really need to think about a quick-changing cityscape and shops must be innovative in finding ways to encourage footfall.'

'There is a huge Debenhams on the High Street in Taunton. Planning discussions for yet another retirement complex already happening,' another person added.
'I propose Italian style piazzas. Sheffield's Debenhams is in a great place for a big town square,' was another comment.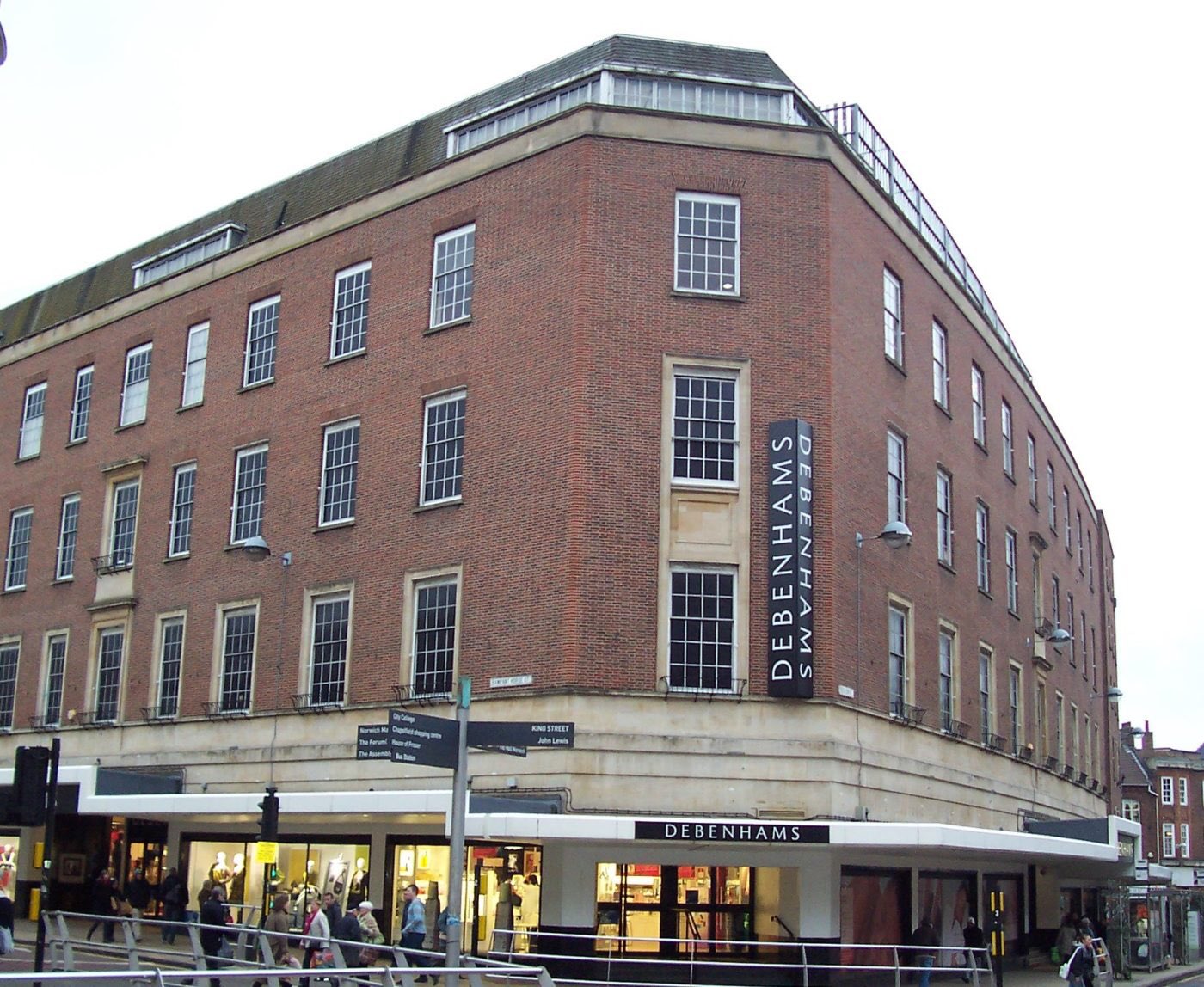 One of the contributors drew attention to the article first posted on Civic Revival in December 2020 about the Debenhams stores, including some financial information about the property in Hastings, which was sold last year whilst Debenhams were in tenancy producing income, which has now of course disappeared, making the future of the building uncertain.
Hastings Council confimed this week that the Debenhams building in the town centre had been sold, with plans for it to be converted into mixed use.
Councillor Colin Fitzgerald, lead councillor for Regeneration, Culture and Tourism, said: "We're obviously aware of the latest news regarding Debenhams. First and foremost our thoughts are with those people that have lost their jobs.
"Regarding the Hastings site we are aware that this has been recently sold. We understand with a view to converting the site to mixed use."

Some of the discussion prompted by John Harris' Tweet raised the equal concerns about the loss of Topshop and Arcadia Group branches of Burtons, Dorothy Perkins, Evans - with the sale of that brand to another online retailer, Asos.
'We largely did this to ourselves embracing online shopping,' was a further comment. 'We're all guilty of it in a way. And let's face it it's quicker, more efficient & often cheaper to buy online. When it comes to the high street Covid is simply the final nail in the coffin.'
'We have to remember that along with Debenhams, Topshop etc take up a huge amount of floor space in Stoke, and the likes of Bullring in Birmingham,' was another Tweet. 'I sadly think the empty spaces those shops will make, will remain like that for ages.'
'Debenhams is the anchor tenant in a shopping centre that was going to save Newport city centre from permanent decline,' said another contribution. 'Hard to know what happens there now.'
'Hopefully the spaces can evolve into something new and community driven,' said another Tweet.
One suggestion was that it 'is time for the landlords and councils to use their imaginations and save these spaces. Imagine if they could be leased to micro businesses on a flexible basis allowing the truly unique offerings talented and ingenious people could provide given the right ecosystems.'
Read the original Civic Revival article on the implication of Debenhams' closure here.