US-owned fashion giant Gap has confirmed plans to close all its 81 stores in the UK and Ireland and go online-only. This latest withdrawal from physical bricks and mortar retailing is a new blow to traditional shopping including both high streets and out-of-town malls.
Gap's announcement follows the collapse of other brands that were once high street staples, including Debenhams earlier this year, and of Arcadia Group - who owned Topshop, Topman, Miss Selfridge, Dorothy Perkins, Wallis, Burton's and HIIT - in 2020.
As well as retailers, there has been  a continuing exodus of high street bank branches like the big cutbacks by Santander earlier this year (see previous post) now followed by  an announcement that Lloyds Banking Group is to close another 44 branches, blaming a lack of customers at the sites as people move to digital banking.
The move comes in addition to previous announcements and means a total of 100 branches will close this year. Lloyds and Halifax branded branches in England and Wales are included in the latest closure programme.
A Gap spokesperson said it would close all its stores 'in a phased manner' between the end of August and the end of September. This includes 19 stores that were already scheduled to close in July, as their leases were expiring.
The firm said it was 'not exiting the UK market' and would continue to offer a web-based store when all the shops had closed. A Gap spokesperson said the decision followed a strategic review of its European business. As a result, Gap is also looking to offload its stores in France and Italy, and that they are 'partnering to amplify their global reach'.
A source close to the company is reported as saying that it had seen rapid uptake of internet shopping for its clothes in the UK since the pandemic-enforced lockdowns.
Its move to an online-only operating structure follows in the footsteps of the Arcadia Group's brands, who were bought by online retailers Asos and Bohoo respectively. Boohoo have also purchased the Debenhams brand, which continues online.

The move represents further concern for the UK high streets, as the premises of Gap stores face an uncertain future in Britain's towns, and with an estimated 1000 jobs being lost.


Which bank branches will now shut?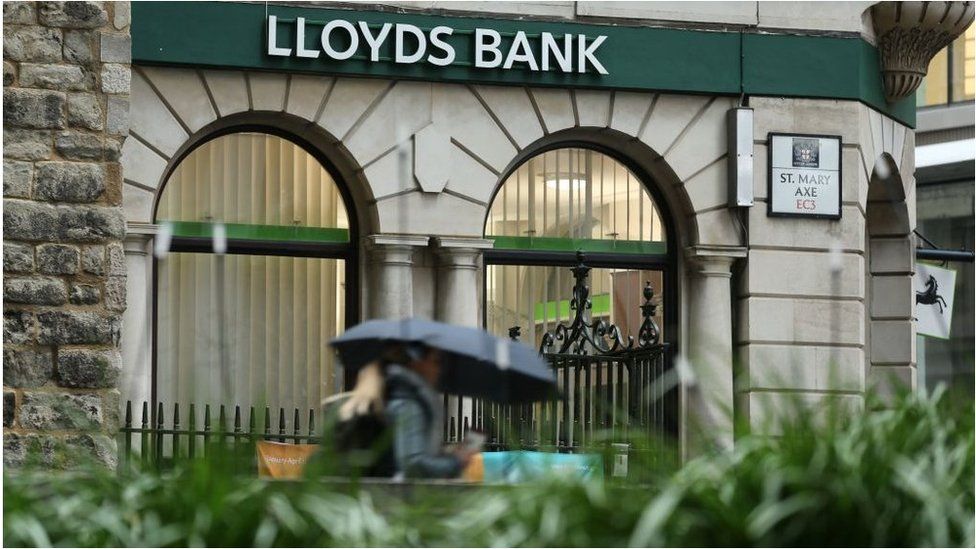 Lloyds bank said a third of the branches which were closing were located in large towns and cities, with another branch nearby.
Its retail director, Vim Maru, said there had been considerably fewer transactions at these branches in the last five years.
"Like many businesses on the high street, we must change for a future where branches will be used in a different way, and visited less often," he said.
The branches will close between September and November, with 29 Lloyds Bank and 15 Halifax branches to go.
The locations of the Lloyds branches are: Bournemouth Westbourne, Cardiff Rumney, Leeds Horsforth, Northwood, Stony Stratford, Church Village, Morley, London Regent Street, Oakham, Brixham, Quinton, Mildenhall, Berkeley Square, Faversham, Brighton Preston Circus, Gants Hill, Halstead, Holsworthy, Henley-on-Thames, Hendon, Kempston, Towcester, Kentish Town, Tadley, Bromborough, Cheltenham Bath Road, Haslemere, Newport Maindee, and Sedgley Dudley.
The Halifax branches to shut are: Manchester Cross Street, Plaistow West Ham, Chesham, Chertsey, Fleet, Harpenden, Potters Bar, Kenilworth, Hinckley, Market Harborough, Upminster, Rugeley, Cheshunt, Pinner, and Chesterfield Central Pavement.
Following the closures, the group will have 779 Lloyds Bank branches, 560 Halifax branches, and 184 Bank of Scotland branches.
… While Ninja Warriors move into empty space in an East Midlands retail park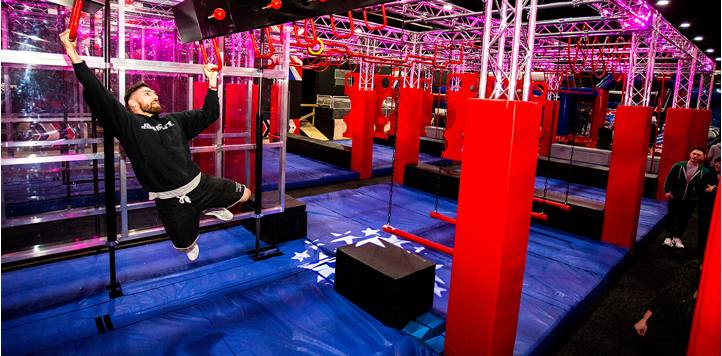 A Ninja Warriors UK Adventure Park has opened to use a large vacant former retail space in a Leicester shopping mall.
Now occupying what was a unit vacated by Toys 'R' Us three years ago in empty unit at St George's Shopping Park, the new attraction has introduced an experiential activity to the retail mix, filling the 34,104 sq ft space vacated by Toys 'R' Us with a £1.2 million obstacle and inflatable course, inspired by the hit ITV show of the same name.
St. George's Shopping Park is home to 16 units over 193,695 sq ft (17,092sq m) in size, with 500 parking spaces for visitors. It has seen many changes over the years, with retailers moving in and out. Brands, Toys 'R' Us and Mothercare occupied two large units in the park, which closed 2018 and 2019 respectively.
The UK has started to see an increase in the usage of retail parks and shopping centres by other activity providers.
Leicester is no exception to this with the presence of entertainment and leisure activities encompassing everything from escape rooms to crazy golf.
According to research carried out by Mintel, as restrictions start to ease, consumers will be focussing on experiences, rather than material things. This shift in behaviour has already been influencing high street trends, but COVID-19 has allowed people to re-evaluate their spending and priorities.
Dean Sayer, managing director of Ninja Warrior UK Leicester, said "We looked at all sorts of venues across the Midlands including Coventry and Derby, but none of them were quite right. We then came across this site and it had all the right ingredients including the size, shape, central location - near the town centre but with ample parking.
"It is easily accessible by car and train which should enable us to attract a wide geographical audience from surrounding cities and counties, as there is no other Ninja Warrior UK Adventure Park for 60 miles." Players are charged £13.95 an hour.
Inspired by the ITV family entertainment show, the obstacle course opened at St George's Retail Park in Leicester, on June 12. It is the ninth Ninja Warrior adventure park to open and the only one in the East Midlands, with the next nearest being in Stoke-on-Trent.
Bank hub concept aims to keep a shared presence in towns losing their individual branches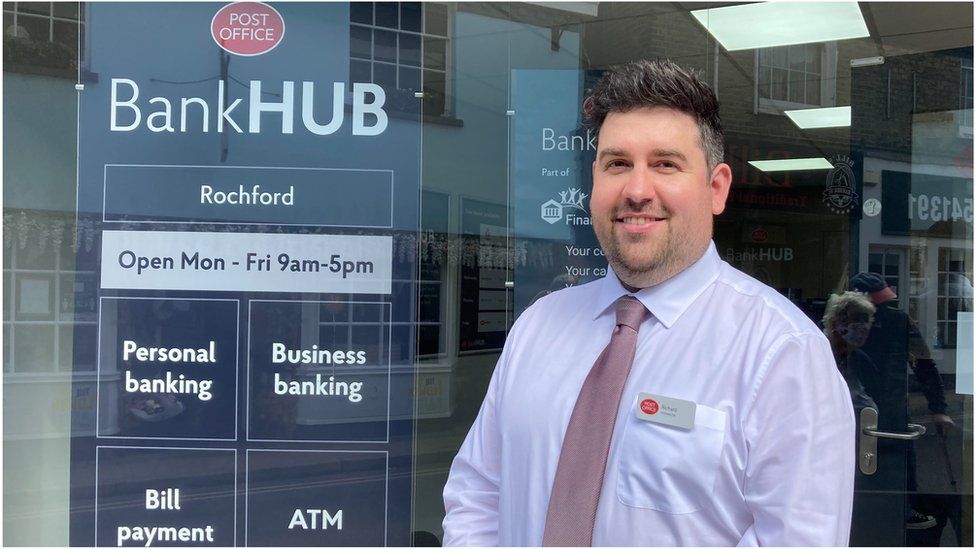 As hundreds of branches across the UK's banking network have been closing, an attempt is being made to provide an alternative by offering shared facilities to the banks in some towns which would otherwise have no remaining physical service.
A series of trials are taking place, designed to find ways of ensuring consumers and businesses have access to cash, and speedy deposit options, when branches are closing. They have included shared bank hubs, run by the Post Office, which also have staff from each of the major High Street banks visiting once a week.
One of the trials is taking place in the centre of Rochford in Essex.
Here the last bank in town closed its doors more than three years ago. Since then, the town's population of 20,000 people have needed to go elsewhere to undertake hands on financial tasks.
That was too much for some of its elderly and vulnerable residents - until now, when they have been given what locals describe as a "godsend".
A new bank hub, run by the Post Office and shared by five mainstream banks, has opened in a former carpet shop just off the market square.
Every weekday there is a counter service, an automatic deposit machine, and a free-to-use ATM. Each day, a member of staff from a different bank comes in to help with trickier transactions.
Martin McTague, from the Federation of Small Businesses, called on the government, Bank of England, High Street lenders, independent ATM providers, regulators and the Post Office to ensure the infrastructure was in place to allow businesses to climb out of the Covid-created economic slowdown.