Six months after many got their first taste of a live Zoom meeting, this August/September saw numerous civic activists get their first experience of an online conference.  Time to add Hopin and Remo to the list of Silicon Valley 'tech unicorn' companies' products we are now familiar with.
Power to Change's Community Business Festival was held on 13-14 August, whilst Stir to Action's Festival, A Playground for the New Economy - which in 2019 was a real festival held in a field near Frome, Somerset and would have been again in 2020, had SARS-CoV-2 not intervened - was moved online and held on 1-3 September.
Meanwhile, Promoting Economic Pluralism/The Mint Magazine's Festival for Change was conceived specifically as a global online event and runs from August to October, with sessions timed and repeated at 0800 and 1700 BST, to facilitate participation from Asia-Pacific and the Americas.  Viewers missing real 'in a field' festival camping can at least enjoy the delights of the Festival for Change's harbour, forum and streetfood village, on the Remo platform.
All three festivals were very well run, with any rough edges around streaming speeds easily forgiven.  A brief report on each is provided below.
At the end of the day, is the online festival better than face-to-face?  Well, a lot of cash and carbon emissions were saved by not travelling around the country to attend the events.  But many would agree with the closing thoughts expressed at the Playground for the New Economy, which (all being well) will in 2021 be held at Selgars Mill in Devon, Stir to Action's new residential training centre: people can't wait to be reunited with real face-to-face interaction and all the serendipitous new connections that go with it.
The Community Business Festival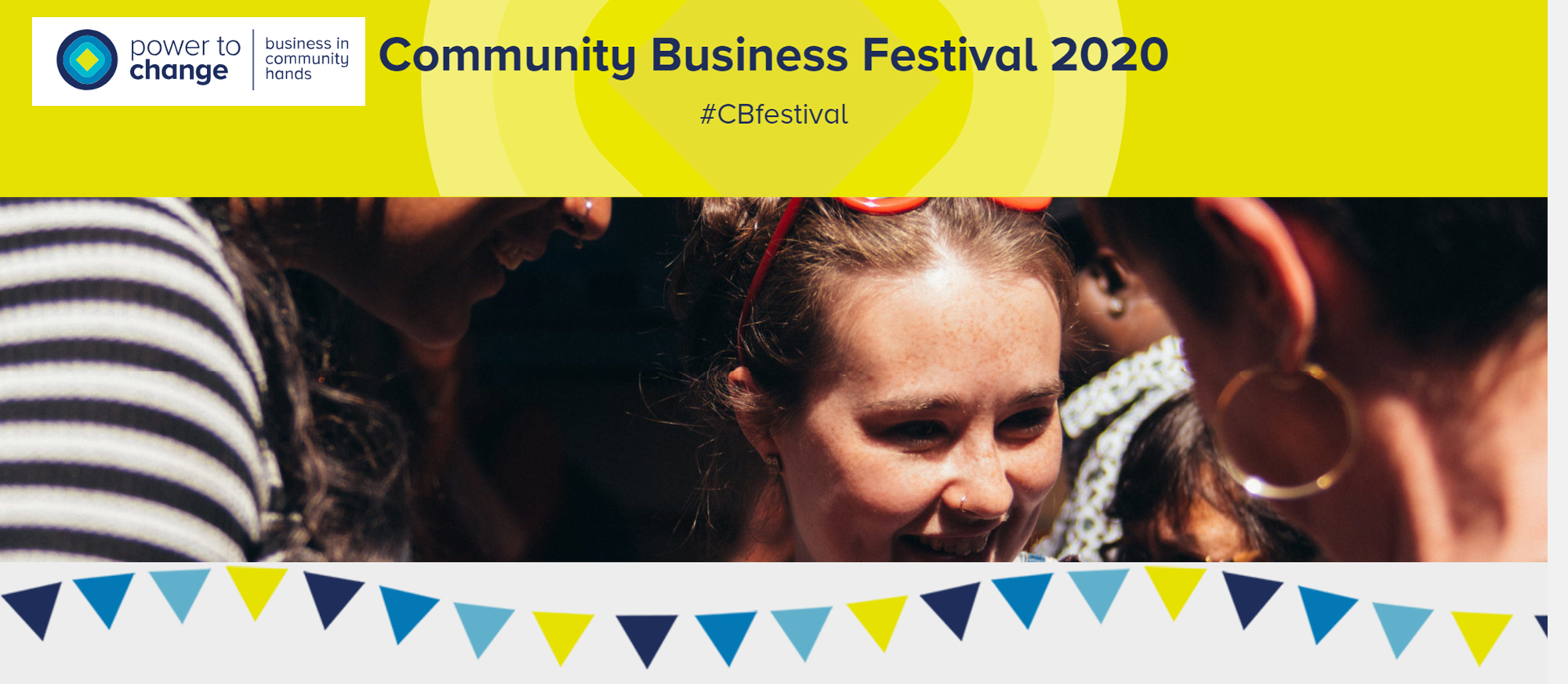 Power to Change was set up in 2015, funded by an endowment from the National Lottery Community Fund, with a 10 year mission to grow the community-owned business sector in England.  Five years in, under Chief Executive Vidhya Alakeson, Power to Change is now a well-established and well-organised champion for community-owned business, managing a series of funding programmes, providing resources and advice for the sector, conducting original research and lobbying for community business on the wider political and media stage.
The Community Business Festival was meant to be light in tone, mixing learning sessions and panel discussions with lighter sessions showcasing what community businesses actually do, such as baking the perfect pie with Liverpool's community-owned Homebaked Bakery, milling flour (Queens Mill, Castleford), or growing vegetables for sale (tips from the Black Rootz group of the Wolves Lane Centre, Wood Green, the 8 acre former London Borough of Haringey plant nursery).  There was even a disco dancing session at the social hosted by Hastings's Jericho Road.
'How we saved our street' was an excellent session on Union Street Plymouth (as previously mentioned on the Civic Revival website here) with Hannah Sloggett of Nudge Community Builders, Jabo Butera of Diversity Business Incubator CIC, and Jane Hunt, senior economic development officer at Plymouth City Council.
Hannah Sloggett is every inch the down-to-earth local hero and social entrepreneur who saw Union Street (formerly the Royal Navy's shore leave 'playground') dying, and wanted to do something about it.  She has learned how to build a new economy enterprise by doing it, a 10 year journey with both its ups and downs.  Nudge is now proprietor of the former "notorious" 24 hour pub The Clipper, organiser of street festivals and markets, and has moved onto its next project 'The Plot', an 'alternative department store' which will feature an international food court organised by Jabo Butera.
Hannah and Jabo both had some excellent and touching personal tips for social entrepreneurs, and Hannah stressed the vital importance to Nudge of taking the big step of becoming the owner of their own premises.  The work Nudge put in to drag the whole of Union Street back up from the nadir of its fortunes was only rewarded by the absentee landlord with a rent hike on its leased premises at Union Corner.  Now with a more secure foundation, the forward-looking, positive energy coming out of Union Street Plymouth is heartening.

'How to save your pub' was another inspiring session, hosted by Hannah Barrett of the Plunkett Foundation, which administers the 'More than a pub' programme.  There are now 103 community-owned pubs in England, 6 in Wales and 3 in Scotland.
The story of two community-owned pubs, both different but each exemplary in their own way, was told by two 'local heroes' closely connected with each project.  Iain Chambers told the story of 'The Bevy', a rescued and repurposed 'estate pub' in Bevendean, Brighton and Rebecca McIntyre the story of The Anglers' Rest in the Peak District village of Bamford, Derbyshire.  The story of community pubs will be the subject of a future Civic Revival article, but (spoiler alert) it comes with a happy ending: almost all community-owned pubs are a success.  The key phrase is 'more than just a pub': at Bamford the Anglers also hosts a shop and the village post office.
During the coronavirus lockdown, although both pubs had to close, both came into their own as community resources for organising local support networks for the elderly and other sheltering – in The Bevy's case, cooking and delivering hot meals.  Both stories are well told on Hazel Sheffield's Far Nearer website, the Anglers here and The Bevy here.
Although there are several different business models for a community-owned pub, each has been tried and tested.  Given the right model for the right place, the recipe is almost infinitely replicable across thousands of communities across the country.  The projects are almost always a success.  With good sense and hard work, a community-owned pub can be one of the best things about any local neighbourhood or village.
Playground for the New Economy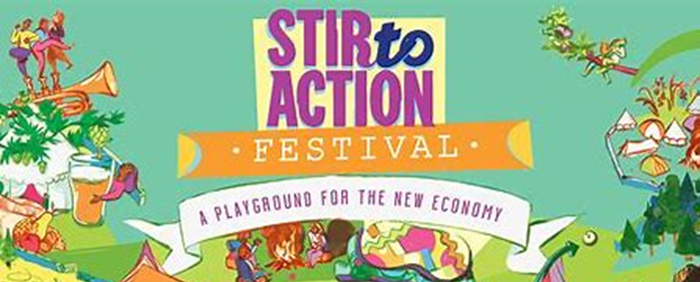 This festival was an even bigger undertaking, stretching over 3 days and featuring over 35 separate online sessions, covering a broad range of topics.  The whole event was ably organised and hosted by Stir to Action from its new base at Selgars Mill near Cullompton in Devon.  The full programme is hereand video recordings of many of the sessions are being hosted on Vimeo until 17 September here.
In its own words, Stir to Action "explores new economic alternatives, where the democratic economy and civic society come together".  It is free to ask more challenging political questions and adopt more radical stances on the need for economic change, whilst always remaining constructive and focused on the practical.  The programme reflected this, and usefully provided a bridge or meeting point between the community/co-operative business sector, and the 'Corbynista' community wealth building movement.
Community wealth building (also known in UK as 'the Preston model') will be the subject of a separate special Civic Revival report.  At the festival there was real value in seeing the encounter between two alternative approaches within the new economy movement: the projects-orientated 'do it yourself on a shoestring' people and the more politically-orientated 'influence Labour party policy and try to get elected, so that you can get serious public resources dedicated to developing the new economy' people.  The latter are understandably still getting over their crushing defeat at the general election.
Democracy Collaborative's Sarah McKinley spoke at a session entitled 'Community Wealth Building beyond Corbynomics', alongside Jules Peck of Avon Mutual.  Sarah's irrepressible American optimism and can-do attitude gave great confidence that the community wealth builders won't be down for long.  They intend to redouble efforts to spread the community wealth building approach at the local level amongst local authorities and other local anchor institutions such as the NHS and universities – the objective being that local anchor institutions spend their money locally on local cooperatively-owned suppliers.
Jules Peck spoke about the new regional mutually-owned bank he is involved with setting up in Bristol and the West of England, Avon Mutual.  This is one of a number of regional mutual bank proposals being developed across the country, including North West Mutual and North East Peoples Bank, being supported by North of Tyne Mayor Jamie Driscoll.  (As a Boltonian, this reporter was pleased to see Jules's slide featuring the Bolton Savings Bank, which ran as an independent from 1818 to 1975, before joining TSB.  My savings account with this bank was organised by my primary school!)

In the session 'The Future of the High Street', Annoushka Deighton's presentation on the history of Stretford's town centre and public hall was a tour de force.
Annoushka is a genuine local hero reminiscent of Plymouth's Hannah Sloggett.  She was working as an acupuncturist when Trafford Borough Council put Stretford Public Hall up for sale in 2013.  It had been given to the people of Stretford by the Manchester cotton king and philanthropist John Rylands in 1879.  Instead of shrugging her shoulders, Annoushka became a founder member of the group Friends of Stretford Public Hall, which campaigned to buy and run the hall, and succeeded in doing so, with the campaign successfully purchasing the freehold of the building for £10 in 2015.  It is now the base for numerous community groups, and hosts a community choir, a cinema club and a programme of events and performances. Elsewhere in the building there are artists' studios and co-working spaces.
Stretford Public Hall has been a visible success, and life and investment has started to come back to the rest of Stretford's high street (Chester Road), inspired not only by the activity and footfall that the public hall creates, but also by the changed perception of what kind of a place Stretford is, and what might be possible there.
On a personal level, Annoushka said that the experience made her "fall in love with all things heritage and community business", and she has now become the North West's programme officer for the Architectural Heritage Foundation (AHF), helping to administer its £15m 'Transforming Places through Heritage' fund.  She gave a brief run-through of projects being funded so far and really made the case that it is the special heritage buildings and townscapes that give our high streets the character that people really cherish.

In the session Repurposing Your Organisation, Imandeep Kaur of Civic Square in Ladywood, Birmingham told the story of closing down a social enterprise: Impact Hub Birmingham in Birmingham's Digbeth.  Immy Kaur told a fascinating and profoundly personal story of how the unreasonable demands of an absentee landlord led to the entire enterprise having to close down.  Instead of taking the advice of many to shut up shop suddenly and quickly, and put the social enterprise into liquidation, Immy took the moral decision to decision to be frank and honest with all those who had invested time and emotional capital in the Impact Hub, and to wind the whole thing up properly, settling all outstanding dues.
The story has a happy ending: the team are using the learning from the Impact Hub project to deliver a quantum leap bigger and better project called Civic Square, "a public square, neighbourhood economics lab and creative+participatory ecosystem": "a vibrant home to collectively owned and built 21st Century civic and social infrastructure.  A place to gather, make, create, grow, organise, play and connect."  Wow.  It will also include flats for people to live in.
Immy stressed the central importance that Civic Square has bought its site freehold (an old factory and its yard, by the looks of it), and has taken 'full repairing leases' and all the rest of the commercial rental system out of the equation.  The parallels with Hannah Sloggett in Plymouth were strong, and the message was the same: for a long term project, ownership is vital.
Immy Kaur is very evidently a local hero born for superstardom, and we will follow the progress of Civic Square closely.  A safe bet is that Digbeth's loss will be Ladywood's gain, and the great city of Birmingham as a whole will stand at better than evens.
Festival for Change

Finally, the global Festival for Change is a slightly different beast, being conceived as an online gathering running over three months, organised by the multitalented and unstoppable Henry Leveson-Gower and his organisation Promoting Economic Pluralism.  The strapline for the festival is "Calling young people around the world: finding new ways to build back better".
Promoting Economic Pluralism aims to rethink and remake the academic discipline and applied profession of economics.  You may think that this is not related to civic revival issues, but in fact the decades-long sickness of the mainstream economics discipline ultimately lies behind many of the maladies that affect our places and civic life.  The genius of PEP is that it does not seek to replace today's mainstream economics with a new single 'right answer'; instead it just seeks to promote the amazing diversity of fresh ideas challenging it.
The festival itself is global in outlook and involves matching young people with more experienced mentors, and giving them carte blanche to develop ideas for a better global future.  A large number of ideas have been submitted (things like: permaculture as a means of improving climate change resilience in the Philippines, recycling plastics in Bangladesh, reducing food waste in Malmo, establishing a single global web platform for buying recyclable packaging, and so on).
The conference runs to the end of October and you can sign up to hear more and participate here.