One thing that strikes the visitor to Northumberland is that quite a lot of new housing of the 'brick boxes crammed in by the roundabout'-type is currently being built across the county by the big corporate volume housebuilders, Persimmon, Barratt, et al.
Which provokes mixed feelings: given the current housing affordability crisis, it is obviously good for people to be able to find a home, and the houses clearly do sell to willing buyers. On the other hand, these new developments really do look terrible to live in – soulless and crammed together, yet far away from everything except traffic noise.  They also must be highly environmentally damaging in terms of the dependency on car use they are building in for the new residents.
What is visible on the ground right now in Northumberland is so far away from the exciting ideas buzzing around the civic activist and new economy community about how new housing could be done – not just how it looks and is designed, but also how it can be co-operatively owned, developed and lived in – that it feels mindboggling even to try to grapple with the question of how we can get from here to there in terms of doing new housing better.
All this got me thinking, and this Episode 2 of Walker's Wanderings is the result. It's a snapshot or three of what I saw on my travels around Geordieland regarding new housing, which I have tried to link to what will be a key topic for Civic Revival during autumn 2020, the government's proposed planning reforms.
The question I would like to raise – but not answer, because I am not sure of the answer – is whether what can be seen on the ground now in Northumberland is a taster of what we would soon be seeing a lot more of, everywhere in the country, if the government's reforms go through as intended.  Here goes.
Ask for beauty
On 6 August, the government launched a public consultation on reforming the planning system, or as Prime Minister Boris Johnson calls it, in his foreword to the consultation document, Planning for the Future, "not more fiddling around the edges, not simply painting over the damp patches, but levelling the foundations and building, from the ground up, a whole new planning system for England".
Given the apparently dire outcomes of the planning system as it is, in which there is simultaneously both a housing affordability crisis and seemingly too much bad new housing being built across the country, reform would appear to be a good idea. However, it is probably not a good idea to buy any proposition from this particular government sight unseen, particularly not an offer to demolish your house and build it again from the ground up.
Therefore it is necessary to read the document and (ideally) also the independent report whose recommendations the government claims it is following:  Living with Beauty: promoting health, well-being and sustainable growth, the report of the Building Better Building Beautiful Commission, chaired by Sir Roger Scruton, which was published on 30 January 2020.  The first principle set out in that report is 'Ask for Beauty'.  The second is 'Refuse Ugliness'. (The third: 'Promote Stewardship'.) Sir Roger himself cannot be asked if the government's proposals meet these principles, due to the unfortunate circumstance of him having died, on 12 January, just two weeks before his own report was published.
Barely legal
The immediate public context for the actual personalities proposing these root and branch changes did not present 'good optics', as they say - Planning Secretary Robert Jenrick having been under strong pressure throughout the early summer to resign, for allegedly unlawfully intervening in a planning matter to the financial advantage of Conservative Party donor and pornographer/media mogul-turned property developer Richard 'Dirty Des' Desmond, and his project to redevelop the Daily Express's former printworks on the Thames in east London to a new skyscraper city of luxury flats.   Barely Legal was of course one of Desmond's titles from his publishing career, alongside Asian Babes, Readers' Wives and The Sunday Express.
A lot of the coverage of the launch of the consultation was overshadowed by this context, and arguably a lot of the immediate reaction to the reform proposals was kneejerk, rather than reacting to what was actually in the consultation document.  There was a danger that the opportunity to have a debate about what the planning system should actually be doing was going to be lost.
However, civic activists are nothing if not serious people and as the consultation period proceeds (it ends on 31 Oct), more people across the country are turning to the document and trying to work out what it might mean for the future of their communities.  
The first pleasantly surprising thing about opening the document Planning for the Future is that it is very well written, and the second is that it says a lot of things that civic activists should find easy to support.  However, can its proposals be taken at face value? Civic Revival will be acting as a forum where this question can be asked and discussed, and will be launching a series of detailed looks at the government's proposals before the consultation period ends, and organising an online event to discuss them.
This episode of Walker's Wanderings is not supposed to be that exercise.  It's supposed to be a snapshot of what is happening on the ground in Morpeth and Amble.  So here are some pictures.
Amble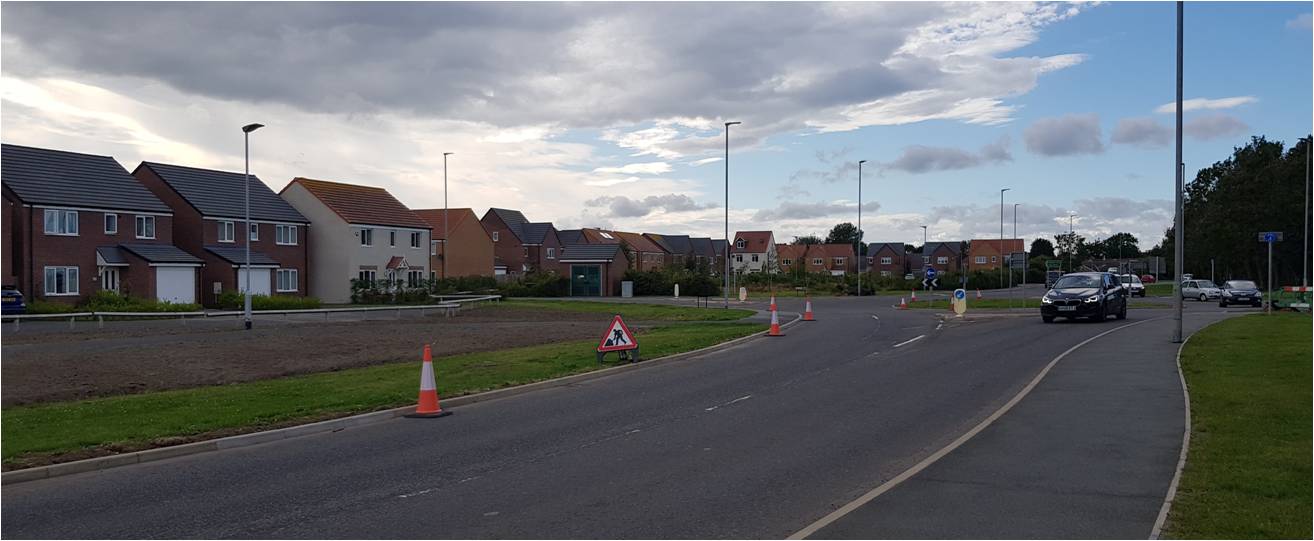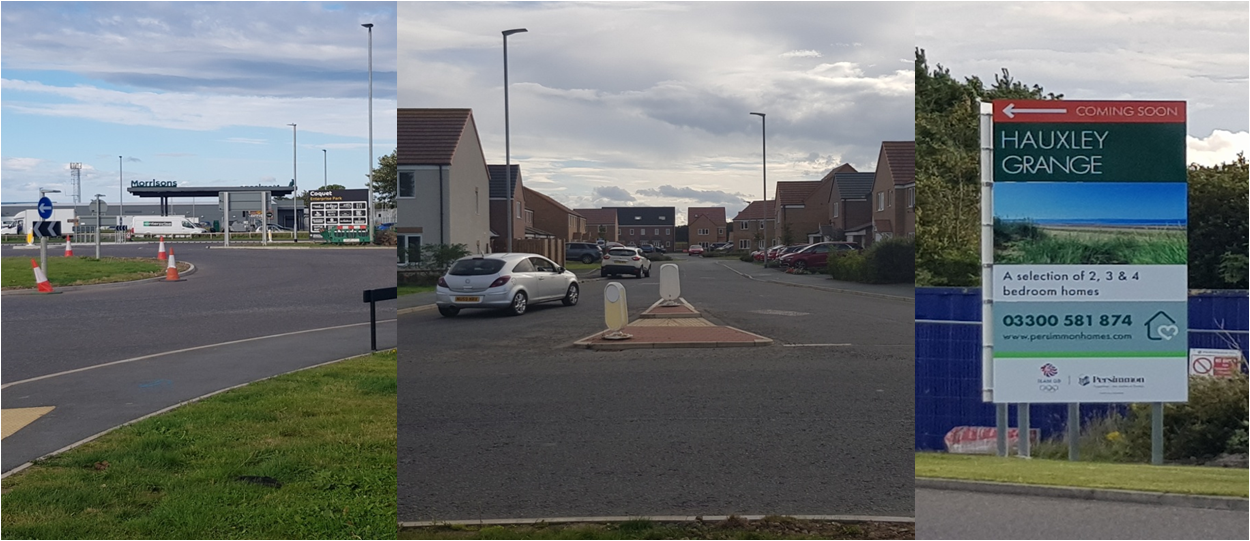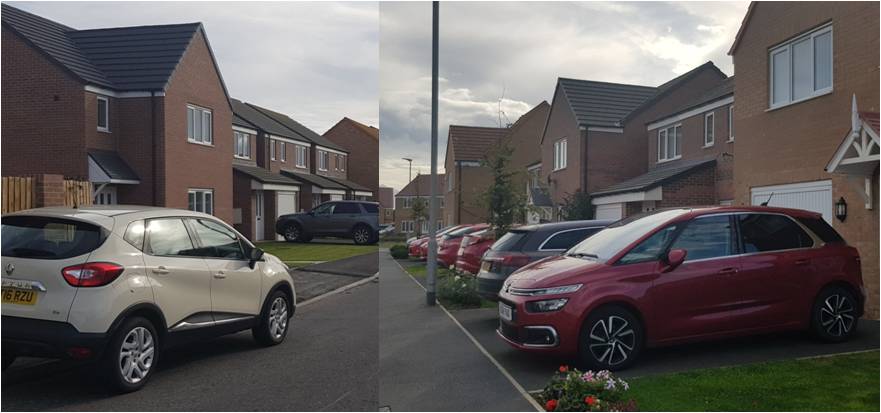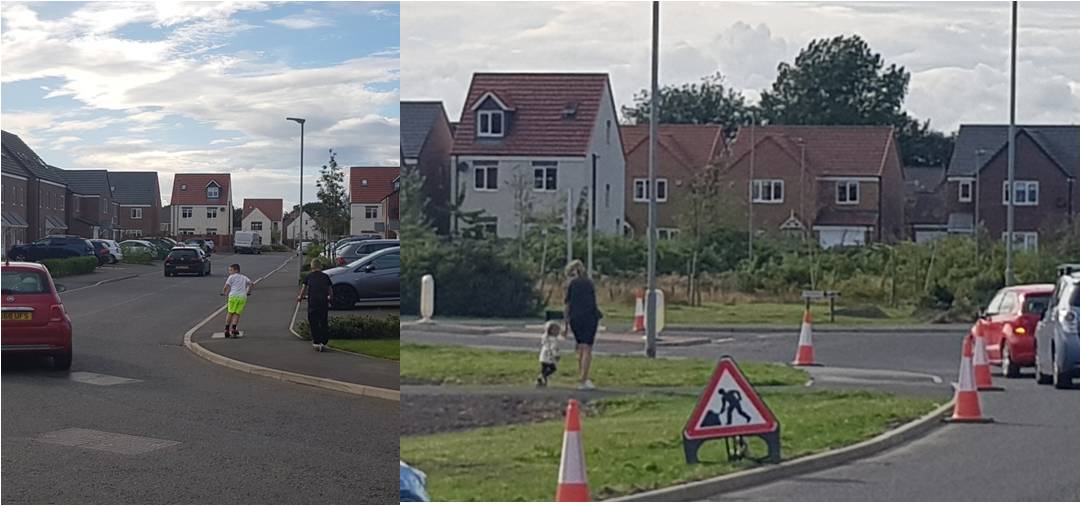 Morpeth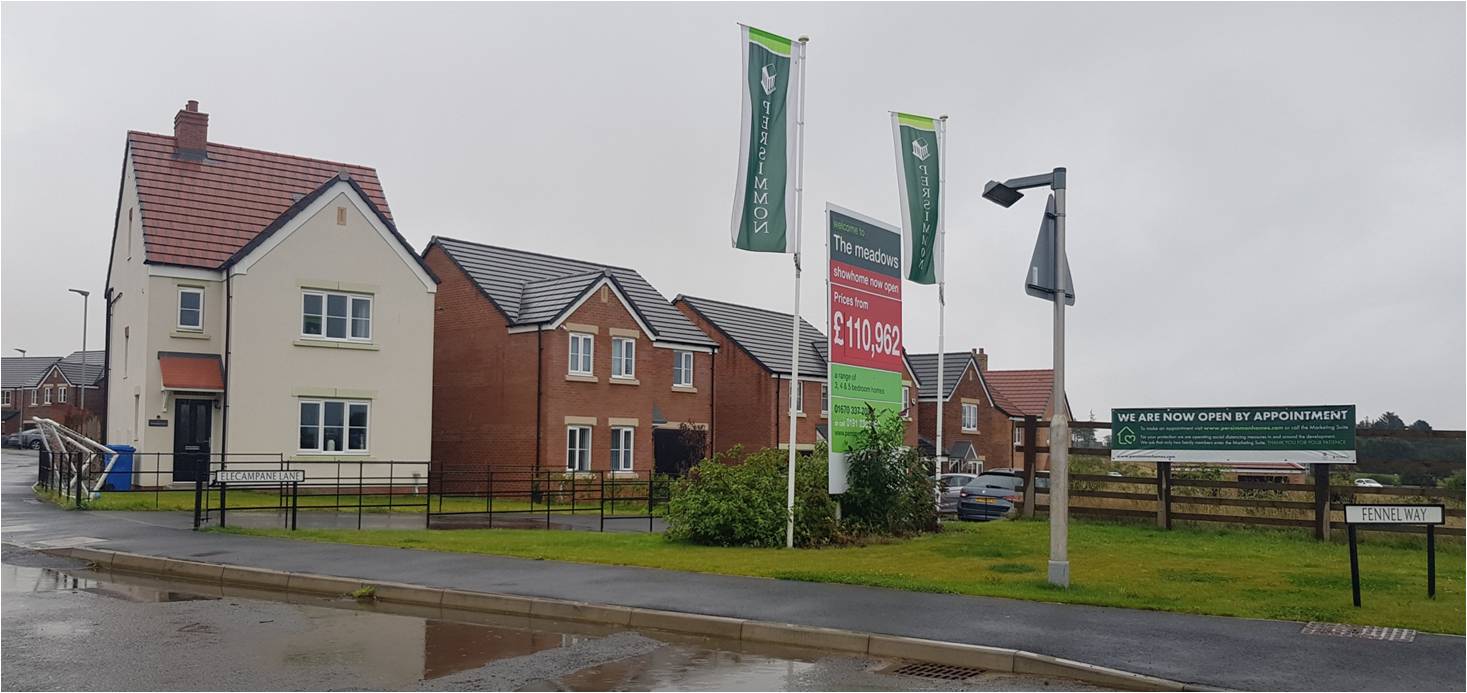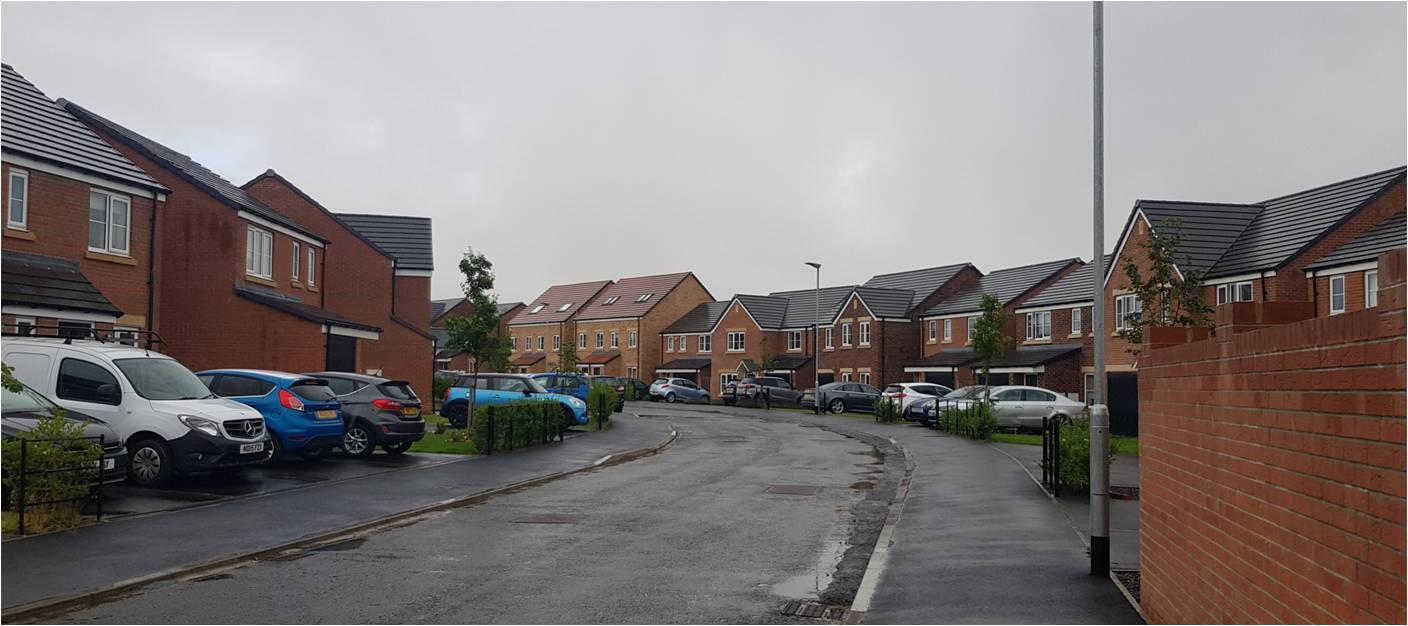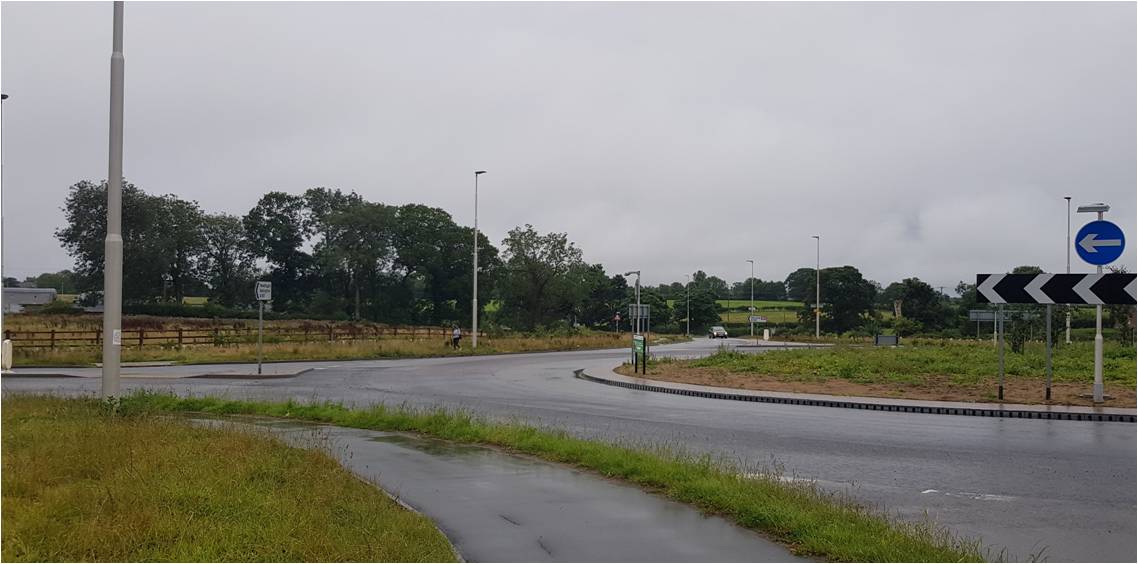 Commentary
It's too easy to take pictures of a new development with raw new landscaping, yet to mature, and say how bleak everything is.  It is also too easy to make the mistake of slagging something off without knowing the planning history and all the constraints to the perfect solution that explain what you may find on the ground on a quick visit.  I will try to avoid both those pitfalls here.
However, it is also important to criticise bad outcomes.  The key takeaways from these sets of pictures are that the houses are crammed on to their site, and that the sites themselves in both Amble and Morpeth are an unpleasant walk to their host town across fast, busy roads without pedestrian crossings. The provision made for non-car transport has come second at every stage of the planning process and is, to use the technical term, cheapo.  
It follows that any resident attempting to walk and cycle even for the shortest trip feels like a complete mug, and therefore will naturally attempt to make every household trip by car, even in two small and in-principle eminently walkable towns.  In young nuclear families, two cars feels like the minimum requirement, of which one can be parked directly in front of the house, and the other needs to find space somewhere half on the road and half on the footway.   Car dependency becomes a way of life, and any attempt to encourage residents to put away their car keys will quickly be met with the Charlton Heston retort, "only from my cold, dead hands".
With respect to car dependency, it is also worth noting that at Morpeth what is really being built is a new suburb of Greater Newcastle, rather than a new suburb of Morpeth per se.  The site pictured would not have been acceptable to Morpeth residents or local council, had it not been linked to a new south-facing pair of slip roads onto the A1, permitting traffic from the new estate and others like it to get on to the A1 for commuting south to Newcastle without having to drive through Morpeth's two main traditional shopping streets.  This is the phenomenon of urban growth "leaping the green belt" and adding loads of extra car-miles and carbon emissions every day.
The campaign group Transport for New Homes has documented all the transport design issues with new housing developments, and tried to be constructive in terms of solving them in a better way than is the current norm.  Their reports are carefully-researched, well-illustrated, easy to read, and hard-hitting.  They are available online here.
The government argues that planning red tape is to blame for these kinds of failures, and what is needed is a design manual for developers which is prescriptive, but if followed, offers a "fast track for beauty".  Is that remotely likely?  As said before, this piece is not about examining Sir Roger Scruton and the government's claims on how we can do better.
However, it is worth pointing out that about a third of the government-subsidised sale price of the house goes directly in the housebuilder's bottom line, of which a nice slice comes straight out as bonus to the executives of the companies.  In 2018/19, York-based Persimmon made £1.04 billion profit on £3.65 billion sales, and chief executive Dave Jenkinson, 51, quit in Feb 2020 after 15 months in the job, having received some £40 million in pay and bonuses.  He left hot on the heels of the previous chief exec Jeff Fairburn, who had scored over £200 million in bonuses in the period 2016-18.  In all the debates over perceived beauty and pattern books, it is hard to escape the conclusion that for all concerned in both company head office and the City of London, the current system is very far indeed from producing unsatisfactory outcomes.
Although Planning for the Future talks about reining in the big housebuilders, it basically proposes to do so by regulating them in a different manner – by means of a non-mutant algorithm, thus also achieving less rather than more 'red tape'.  Nobody seems to be talking about the public sector taking it upon itself to design and be the master-developer for new housing areas, and as is the norm in Holland or Denmark.
One final thought for this section.  Some of the people in the pictures shown are young children.  When you are a grown-up, a place to live can sometimes just be a pad to get your head down in whilst living most of your life elsewhere.  But when you are a kid, where you live is your whole world.  It's not what the detailing of the houses' facades looks like that affects the quality of your life in that world, it's the fundamentals of the amount and quality of the indoor and outdoor spaces you get to live and play in.  In Denmark, these considerations are put at the very heart of planning new housing.  Can we say the same in England?
We used to be able to do it
In order to avoid leaving Morpeth under a cloud, this final section shows some pictures that show that the British way of doing town planning, now supposedly so broken and in need of being torn down, used to be able to deliver the goods.  Below are a few pictures of Lancaster Park, a development a few hundred yards down the road, dating at a guess to the oft-maligned 1970s, that would have been the edge of town new housing development delivered by the planning system for Morpeth at that time.
Admittedly it is now a prestige rather than an affordable area, but the houses are fairly modest.  The desirability and the resale value has been created by the generous use of space and simple attention to design.  Obviously it also helps that the landscaping has matured and has been well cared for.  So I have also added a couple of pictures of Stobhill estate on the south side of Morpeth to show that reasonable, but scarcely excessive, amounts of private garden space were standard even in affordable developments back in those days.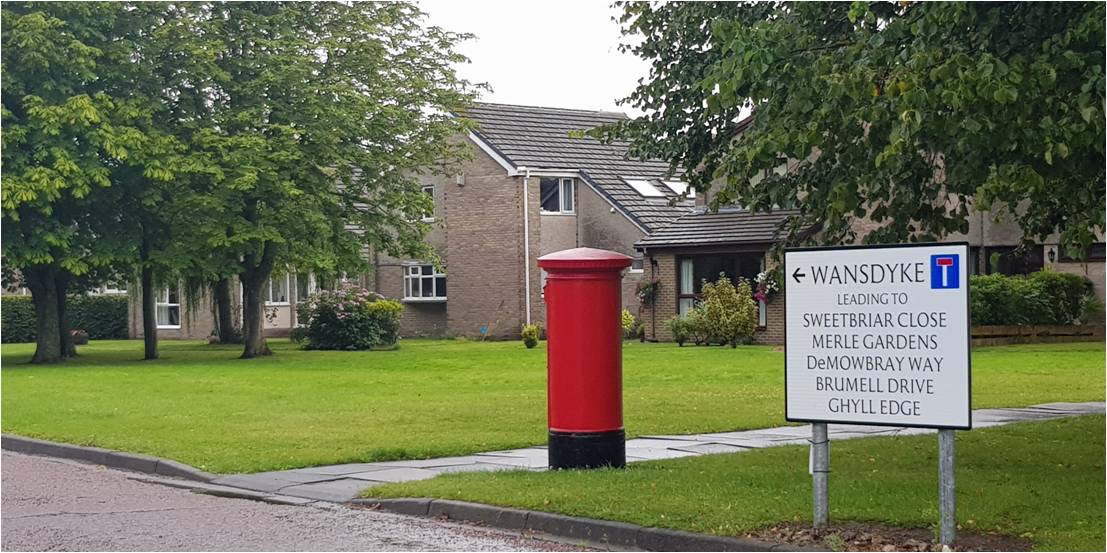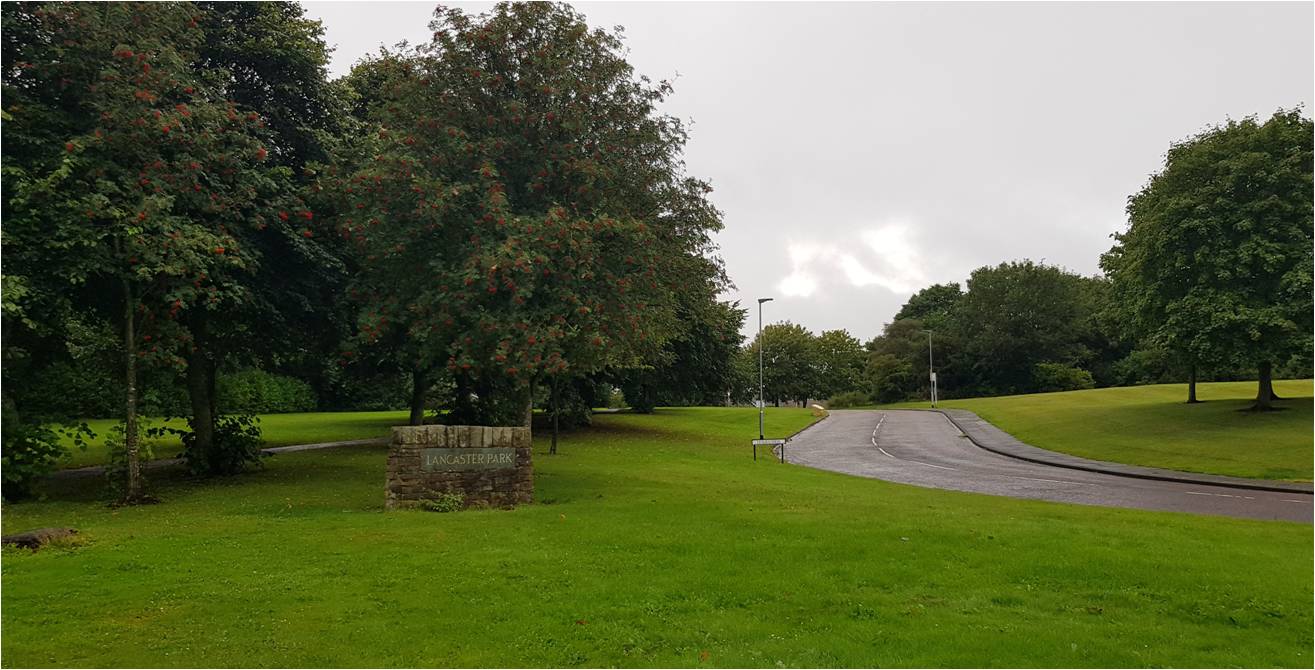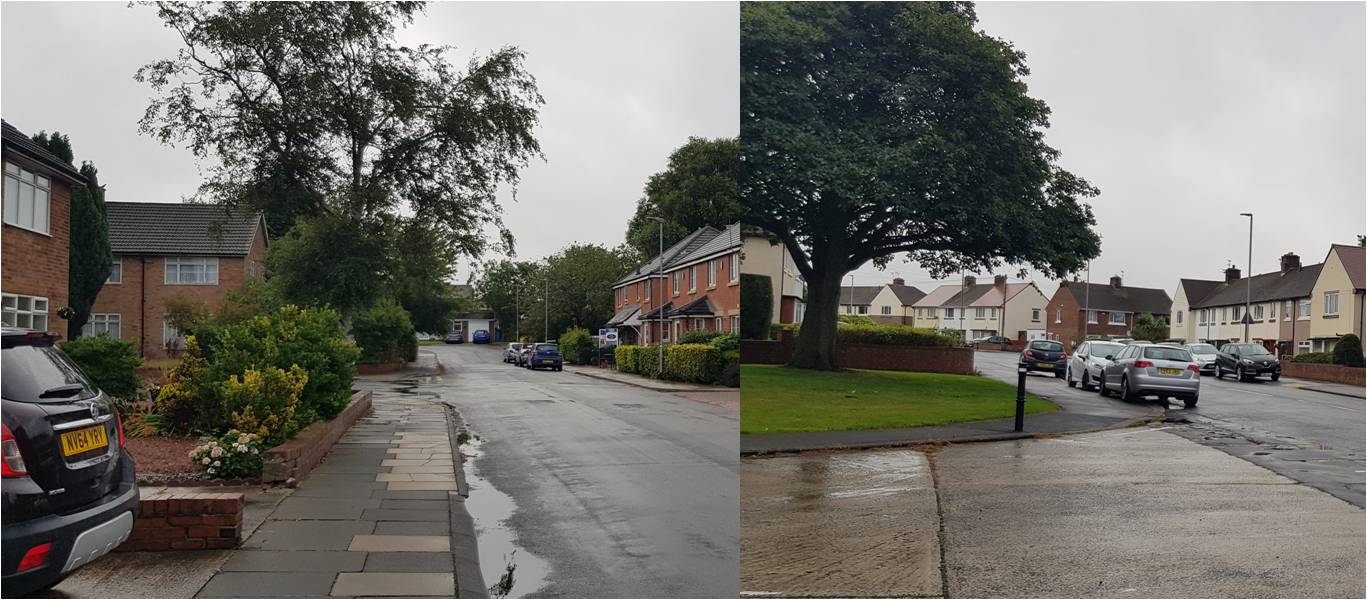 Walker wanders further
I have photos from the same wander of interesting new housing developments in the heart of Morpeth town centre and alongside the River Wansbeck, which runs through the town. But writing this up will need to wait for another time.  
The next episode of Walker's Wanderings, the last of the current series set in Geordieland, is on local nature reserves, rewilding, and their links (if any) to Civic Revival and its five key civic building blocks.  Watch this space and beware the wild cattle!